Local
Business
Visitor Information
Miscellaneous
Welcome to Weaverville and Trinity County California!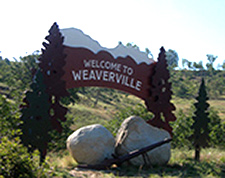 A California trip back in time
Weaverville is located in Northern California in Trinity County. Nestled at the foot of the beautiful Trinity Alps Wilderness, Weaverville has so much outdoor enjoyment to offer along with history of the old West.
Founded in 1850, Weaverville is a historic California Gold Rush town. Weaverville was once home to approximately 2,000 Chinese gold miners, and had its very own Chinatown. A lot of history lives in Weaverville, and the downtown area still proudly displays the old west heritage. The Jake Jackson Museum has a huge collection of items from the days of old, a truly educational experience for all who visit. If you are looking for a great place to spend your vacation, then Weaverville is the place. Historical places, beautiful scenery, great outdoor adventure, a friendly small town atmosphere and much more await you here. Come and visit Weaverville in beautiful Trinity County California!
Weaverville and Trinity County History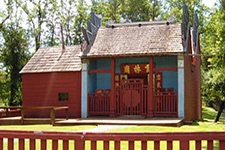 If you like history, then Weaverville and Trinity County have lots to offer. The old west was home to Weaverville with saloons, gunfights and even a stagecoach robbery by the notorious Black Bart, a.k.a. Charles E. Boles. An old safe from those wild days is still displayed in a building that is now a restaurant as a reminder of the old west heritage. There is also lots of logging and timber history which is displayed at the Jake Jackson Museum for you to enjoy.
The Joss House is California's oldest Chinese temple, which was made part of the California State Parks in 1956. Guided tours display pictures, art objects, mining tools, and weapons used in the 1854 Tong War. The Chinese played a big part in California Gold Rush, and the Joss House stands as a reminder of those early years when the Wild West was young.
Trinity County and Weaverville have plenty of history to make your stay a fun and educational experience! View our Attractions page to learn more about what there is to see and do during your visit.
Trinity Lake and other waters in Trinity County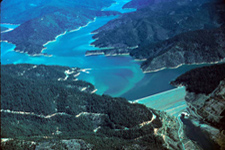 Weaverville is centrally located to many great water resources thus making Weaverville a true outdoor sportsman's paradise.
Trinity Lake, Lewiston Lake and Ruth Lake all provide ample water acreage for boating, water skiing, and jet skiing while the Trinity River and other area streams provide great rafting, kayaking and fishing. Visit the Recreation page for more information about water recreation locations in Trinity County.
Trinity Alps Wilderness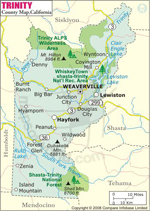 If you like the great outdoors then the Trinity Alps Wilderness has lots of outdoor terrain to keep you busy. The Trinity Alps Wilderness is part of the Shasta-Trinity National Forest which is the largest in California with a diverse landscape ranging from 1,000 to 14,162 feet. The 2.1 million acre forest encompasses five wilderness areas, hundreds of mountain lakes and 6,278 miles of streams and rivers for lots of outdoor fun and adventure.
With so much outdoor wilderness to offer, it's no wonder why Trinity County is the most visited recreational area in California. Beautiful scenery, boating, hiking, camping, fishing, white water rafting and more await you here!
Click for larger image >
Bookmark & Share


Downtown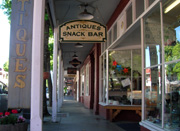 Downtown Weaverville is alive with many small businesses such as a quilt shop, coffee cafe, shoe store, bead store, gift shops, clothing stores, antique stores, fine dining restaurant, a movie theatre and more. There is also a bank with an ATM for your convenience.
Local Weather
Advertisements